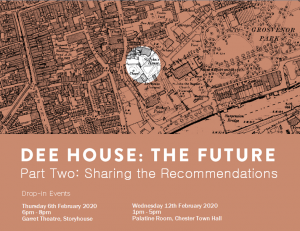 Chester Growth Partnership's Dee House and Amphitheatre Working Group is holding public drop-in events to share its recommendations about the future of Dee House.
The Dee House and Amphitheatre Working Group was established to draw together stakeholders to undertake a review of the site and recommend potential future options.
The group has been meeting regularly over the past 12 months to gather all the background information and facts about the site, and would now like to share its conclusions with the wider community before making its recommendations to Cheshire West and Chester Council.
To view the summary of the recommendations and information boards please click the links below.
Information and Resources