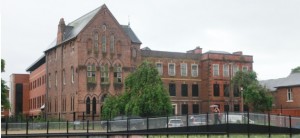 Dee House is a Grade II listed building which sits on the unexcavated part of the amphitheatre. The building has been unoccupied for many years and is in a significant state of disrepair.
Following public consultation in June 2015 and discussion with Elected Members from both Labour and Conservative parties on the suitable uses for the site we started an EU compliant procurement process to secure a development partner.
A number of potential uses were suggested, including Visitor Attraction, Serviced Small Scale Accommodation, Restaurants, cafes and bars, Boutique Hotel, Serviced Apartments/Holiday Accommodation and Cultural/Interpretation/Exhibition/Function Space
In July 2016 final submissions were received from developers and evaluated. A preferred bidder was selected and that decision was bought to cabinet on July 20 for ratification where it was approved to enter the Development Agreement. The Scrutiny call in after that meeting on the 8 of September enabled the decision made in Cabinet to proceed without any further recommendations.
Councillor Louise Gittins, Cabinet Member for Communities and Wellbeing, said: "We are committed to restoring the grade II listed Dee House to its former glory and improving the visitor experience to the amphitheatre.
"We know this is a highly emotive issue and that is why we have devoted many hours and much effort to fully consider and scrutinise the decision.
"Daniel Thwaites PLC has proposed a high quality hotel and restaurant, to create an interpretation centre and café, and to remodel the public realm around the building, enhancing the views of the amphitheatre.
"The proposal does not involve any new build and will restore the current building to its former glory and will protect two key historic assets for future generations.
"The company has significant experience of restoring listed buildings back into beneficial use, most notably the Judges Lodgings, a grade I listed Georgian Town House in York.
Project Contact: Caroline Thomas, Project Manager – Email Caroline