King Charles Tower Garden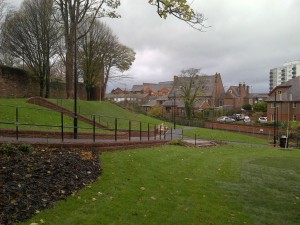 King Charles Tower Garden is the first project brought forward by Chester's Waterways Strategy with the key principle of reconnecting Chester's waterways to the city. The park is a great example of opening vistas from the famous city walls to the Shropshire Union Canal and Cow Lane Bridge.
This is a significant project as Cow Lane Bridge is now a key gateway for the city, an arrival point from the new bus station, from Hoole, from the Central Business Quarter and from Chester Station. The complete transformation now allows the walls and King Charles Tower to be seen from Cow Lane Bridge, reclaiming a part of Chester that was derelict for people to enjoy the greenery and heritage.
Boaters are now welcomed to the Northgate cutting with an attractive and safe environment, helping to draw more visitors to the city and through to the National Boat Museum in Ellesmere Port. New architectural lighting for King Charles Tower has been installed highlighting Chester's heritage, enhancing the skyscape of the city, improving the environment for the evening economy and setting the scene for the new Chester Cultural Centre.
King Charles Tower Garden is one of many improvements in this part of Chester. Looking forward, next developments include; an arts project with light projections onto the water and a multi-million pound improvement of Frodsham Street.
The project was delivered and supported by the Chester Waterway's Strategy group and partners; Chester Growth Partnership, Cheshire West and Chester Council, Canal and River Trust, Chester Canal Heritage Trust and Inland Waterways Association.
Project Contact: Ruth Wojtan, Project Manager – Email Ruth