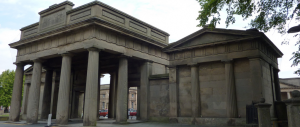 The entrance way to the Castle complex – the Propylaeum as it is formally named – is undergoing a major conservation project totalling £679,000 of investment including a grant of £404,000 from Historic England , £200,000 from Cheshire West and Chester Council and £75,000 from WREN.
The two hundred year old sandstone structure is a massive gateway in the Greek Doric order, flanked by two smaller pedimented lodges and was designed by Chester based architect Thomas Harrison. Work began on the grade 1 listed structure in 1811 and was finished in 1815.
Scaffolding was erected in 2014 to prevent falling masonry and the cause of subsidence to one pavillion was investigated. Scheduled Monument Consent was needed to carry out excavations to both sides of the Propylaeum. The work was undertaken by structural engineers and archaeologies and included a 3D laser survey of the buildings.
Work begun in Spring 2016 and will be completed in the Autumn. The new project includes:
Underpinning part of the building which has suffered from subsidence;
Waterproofing the roof structure to prevent further water penetration;
Extensive repairs to the central gateway;
Repairs, removal of vegetation and gentle cleaning of the stonework;
Improvements to the current rainwater drainage system;
Replaces of existing light fittings with more elegant and energy efficient fittings and removal of redundant cabling;
Cleaning, repair and repainting of gates and railings; and
More sympathetic surfacing around the building.
Project Contact: Caroline Thomas, Project Manager – Email Caroline