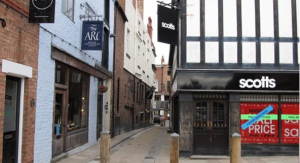 Work has commenced on the preperation of a Development Framework Document for the Commonhall Street area. This will involve a review of the previous planning development brief prepared for the area and the recommendations which emerged from a Workshop held, together with a townscape analysis and overview of current planning permissions and potential development opportunities within the area.
The objective is to draw up a new development framework for the area which will guide future development and be linked directly to the Local Plan Part 2.
Commonhall Street is part of the 'Historic Core' in the One City Plan which identifies the area as having potential to become a lively Artisan Quarter with a mix of high quality housing and contemporary spaces.
Project Contact: Caroline Thomas, Project Manager – Email Caroline