Chester Central Business Quarter
The Central Business Quarter is a major redevelopment site in the heart of the city that will introduce a new standard of office accommodation to Chester. The scheme has planning to deliver 500,000 square feet of new office space, retail and new residential accommodation which will create over 1,100 new jobs. This will bring economic benefit for the city, borough and across the Cheshire and Warrington sub region.
It will create a sustainable commercial new quarter of the city with high quality office space alongside complementary active uses, residential use and new public spaces. Being located immediately adjacent to Chester Railway Station provides strong sustainable connectivity with all major national cities. The historic character of the area and its close proximity to the city centre adds greatly to its attractiveness, as does the Shropshire Union Canal which runs east to west through the centre of the Quarter. The site already has a major employer in Lloyds Banking Group located in it as their Chester headquarters.
Delivery will be private sector led, but with significant support and investment from the Council and its partners. There are three key developments within the Quarter, each brought forward by separate developers. These are being jointly co-ordinated through Chester Growth Partnership and the Council.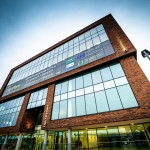 One City Place will comprise a six storey Grade A office building with a net internal area of approximately 70,000 sq. ft. which will set new standards in terms of specification and quality in Chester City Centre.
Project Contact: Chris Capes, Programme Manager – Email Chris