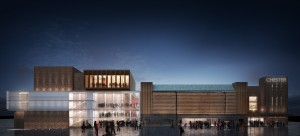 RE:NEW is the name of the development project transforming Chester's 1936 Odeon building into a new world-class theatre, library and cinema.
The Chester Odeon is Grade 2 Listed and has been empty and deteriorating since 2007, the project seeks to convert and extend the building to house new theatre, library and cinema spaces housed in a cultural centre which will be the focus of day-long activity in the city centre.
The new cultural centre will be a place where audiences will be truly inspired. It will both produce its own work, and welcome the best national and international artists to the region. The centre will blend theatre, music, dance, literature and cinema in what will be a nationally celebrated fusion of a library and performing arts space.
The Council has appointed an award-winning team which includes architects Bennetts Associates and main contractor Kier to design and construct the project and a scheme has been developed which accommodates the needs of the cultural centre whilst preserving and enhancing the character of the Art Deco Odeon and integrating the building into the city centre.
The building will be run by Chester Performs and will also house much of that company's work, including the Grosvenor Park Open Air Theatre company, the MBNA Chester Music Festival, WayWord and Chester Literature Festival.
The Grosvenor Park company will expand its season across park, main house and studio during the summer, creating a nationally celebrated, home produced festival theatre season. From September to May the new centre will welcome the very best in touring theatre, musicals, dance and comedy, making a truly inspiring year-round programme.
The annual public programme for the library, theatre, studio and café spaces, including schools, summer, literary and engagement programmes, will be managed and planned as a unified library and performing arts programme, encouraging all communities to enjoy literature and the arts, along with developing creative industries in the region.
For more information, visit the website at www.renewchester.co.uk