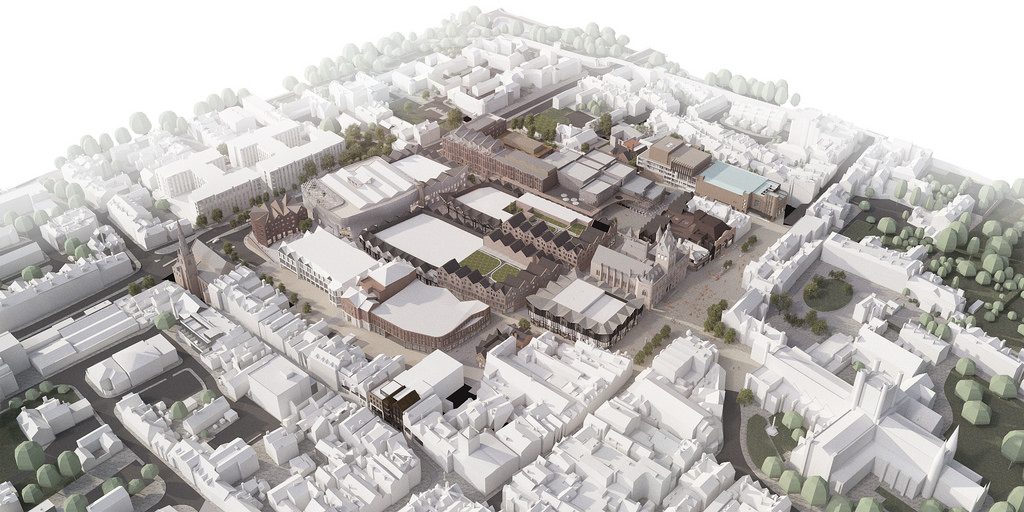 At an informal meeting, convened by Peter Carstensen, Chair of the Chester Growth Partnership (CGP), representatives of the private sector met with senior Cheshire West and Chester (CWAC) officers to discuss the Northgate Development. The meeting was held under 'Chatham House Rules' on 30th July 2018.
The newly appointed Chief Executive, Andrew Lewis, and the Deputy Chief Executive, Charlie Seward, attended on behalf of CWAC and met with Guy Butler from Glenbrook, and Tim Kenney of kenneymoore, representing the "#Northgate Remastered" group.
Following an exchange of views on a wide range of issues associated with the proposed development (including commercial viability and delivery), substantial agreement was reached on important aspects of Northgate.
All agreed that the development is of huge importance to the city and wider borough, and represented a unique opportunity to deliver growth and jobs.  It was also agreed that the proposed development needed to reflect recent fundamental changes in the business environment for retail, and increase the relative importance within the site for good quality housing, leisure and cultural attractions, and high quality public realm.  The opportunity to create a new covered market, rivalling the best in the world, was enthusiastically supported.
It was further agreed that going forward, a substantial and meaningful engagement between senior members of the private and public sectors will be essential for the successful delivery of the Northgate Development.
To facilitate this dialogue the CGP will establish a dedicated working group which will meet at regular intervals and will report publically and openly on progress.
Peter Carstensen said: "This was a very important meeting as it demonstrates the desire of CWAC to engage with the private sector at the highest level in a meaningful and substantial manner. The Northgate scheme is of fundamental importance for the regeneration of Chester and the successful implementation of the Northgate scheme will provide a catalyst for ongoing future investment in and around the city.
The support of the Chester Growth Partnership for the Northgate Development is firmly based on the ambitions for Chester as set out in the One City Plan and the specific regeneration objectives contained in the document, and we will continue the dialogue between the public and private sector in order ensure a successful delivery of a viable scheme."