Could the future of Chester be more Blade Runner than black and white?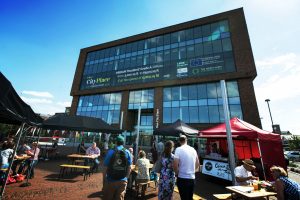 It looms through the autumn mist — all glass and red brick. The flickering lights of evening reflect down upon Carriage Shed event space below.
Okay, it's not exactly a scene from Blade Runner, or a development to the scale of Shanghai's Pudong, but City Place does make an impression as you arrive into Chester by train.
What's more, in a city known for its heritage, there's not a mock Tudor façade in sight.
"City Place is the modern face of Chester," says Phil Mayall, Development Director, Muse Developments. "It no longer starts and ends with the city walls."
Holiday rentals operator Sykes Cottages is the latest occupier to take space at One City Place. The six-storey office building forms part of the wider £120m, 3.5-acre City Place development and marks the cornerstone of Chester's burgeoning Central Business Quarter.
When completed in 2028, the Quarter will encompass up to ten office buildings, retail and leisure facilities, as well as 200 residential units. Further occupiers signed up to date include Power Solutions UK, SL Investment Management and Black and Veatch.
"I've been personally involved in this project for seven years and believe Chester has huge potential," adds Mayall.
"Chester is an easy sell, so the challenge is not attracting investors, but tackling the shortage of suitable accommodation that could force businesses out of the region."
HIGH DEMAND
Indeed, the property market in Chester is booming — but high demand for space is driving up rents.
A record turn out at the Place North West Cheshire Development Update at The Queen Hotel in September heard how Cheshire boasts one of the most successful economies in the country.
But it needs to address challenges around housing and infrastructure to meet ambitious targets.
"Businesses want modern office space but that's at a premium in the city with too many 'modular' spaces, that's offices converted from old Victorian dwellings," says Will Sadler, Director, Legat Owen.
The decision by Cheshire West and Chester Council to vacate the HQ building has freed up space for new tenants with law firm Knights and Chester Racecourse relocating to the building on the site of the former Police Headquarters.
Chester Business Park is also seeing new developments at Halladale House and Parkside One, both offering Grade-A office space, albeit at an out-of-town location.
URBAN LIVING
Yet research shows that 18-35 year olds are leaving Chester and not coming back. The solution, suggests Guy Butler, Director, Glenbrook and a former chairman of the Chester Growth Partnership, is a more holistic approach.
"The perception is that cities are grown on retail but, for me, housing is the catalyst. All types of housing for all types of people grows vibrant city-centre communities, leisure and business," he says.
"I saw from my work with Liverpool ONE how city living spawns ambition among young people. Chester has been missing out on an opportunity there," he adds.
OTHER PROJECTS
Chester took the number one position in the Colliers International's UK Hotels Market Index, a ranking of development hotspots, earlier this year. York ranked second in the list.
It was subsequently confirmed that a four-star Hotel Indigo, a boutique brand of the InterContinental Hotel Group (IHG) chain, is be built next to St Werburgh's Church on Grosvenor Park Road. There are also sites allocated for new hotels from Travelodge and Moxy, a boutique brand of Marriott.
The long-awaited £300m Northgate development is, meanwhile, evolving to reflect a more mixed-use approach with Picturehouse Cinema and House of Fraser confirmed tenants alongside the relocating Crowne Plaza Chester hotel.
Back at City Place, meanwhile, the gleaming towers silhouetted against the night sky offer a future vision. Muse Developments is already looking ahead to phase two of the development.
"The Central Business Quarter is not another Canary Wharf. It's uniquely Chester," says Mayall.
"People know Chester for heritage and its quality of life but we forget its business base has some really impressive names," he adds.
"Encouraging them is the key to Chester's future."
David Atkinson is a travel writer but always returns home to Chester; more from atkinsondavid.com.
Three to see
Three Chester buildings with modern office space for rent:
City Place, a multi-purpose, modernist development by Chester train station
HQ building, modern office space formerly occupied by Cheshire West and Chester Council
Gorse Stacks House, high-spec offices next to the Fountains Medical Centre. Home to Virgin Money and other clients.